Mobile Apps
Showcase your dispensary's menu within a mobile application. We can integrate with any seed to sale system (Metrc, MJ Platform, BiotrackTHC) and take your inventory to the next level. Your customers or patients can simply download the app from the App or Play store and be connected to your business instantly.
Possibilities become endless when your dispensary has a mobile app. Notifications, videos and even FAQs can all be included. No need to worry about the maintenance. We'll take care of all the work when it comes to keeping it updated and accessible in the stores. One of the main features of the mobile app is the listing of your seed-to-sale inventory into a shopping cart menu. This will be pulled real-time from your existing Metrc system allowing customer at a touch of a button to find out what the dispensary has available. From here the menu has the ability to sort by various filters including strain type, price, thc percentage, product name and many more. The customers will also have the ability to order products directly from the app! This can shorten the wait time for customers by 85%.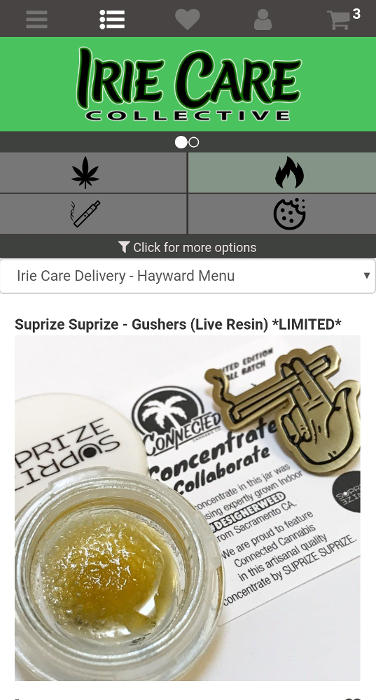 Connects to any seed to sale system

Our mobile app can connect with any seed to sale system. We are certified integrators in many systems including Metrc, MJ Platform and BiotrackTHC.

Display Inventory Data Real Time To Customers

In today's cutting edge world your customers will expect nothing but real time information when viewing a list of your available products. Don't worry we are experts at solving this problem.

Alert Customers When New Items Arrive

An app is an amazing way to directly connect your dispensary to the customers. Send notifications directly to their device when new products arrive or when an order is ready for pick up.

Register new customers and patients

We make it really simple for registering new customers and patients. After downloading the app or accessing from a browser they can easily register within minutes.

Knowledge and FAQ

We also include a knowledge section which can provide a wealth of information for your customers or patients. Help them understand the difference between Sativa, Indica or what a terpene is. Also included is a list of general FAQ that we can add to save your staff time and money.
State and Age Verification:
The state and age verification service can help ensure that the customers using the app are within compliance of state laws. Once a customer downloads the app and opens it for the first time they will be presented with a dialog asking to verify their state. Pressing this button will run a process of looking up a user's location and verifying they're within a state that allows the use of marijuana. Apple users have no choice but to use their location service to verify, so this must be turned on in order to use the app.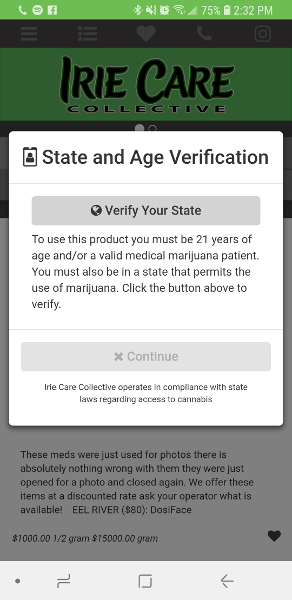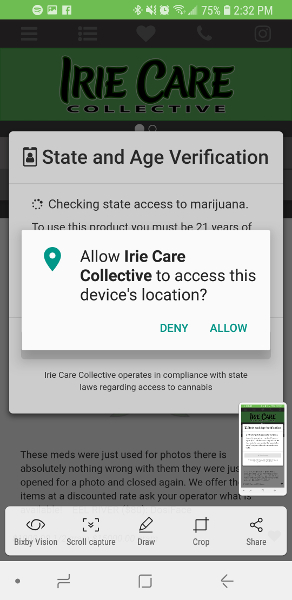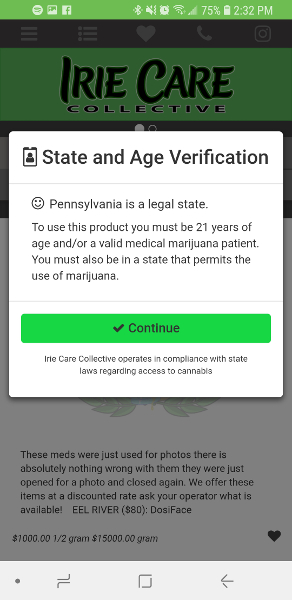 Distribute your app privately to include ordering

Our mobile apps can be distributed privately via email or through a link on your website. This can allow your app to include ordering as Apple and Google currently will not distribute apps with this feature turned on.

Filter products

The app and online menu include an easy way for customers or patients to filter products. The floating filter button can allow multiple filters to be selected to help customers narrow down the products your dispensary has available.

Order disabling when your store closes.

The app can be programmed with your available hours to prevent orders being placed when your dispensary is closed. We can also customize the hours to turn on hours before your store's opening to help give you some time preparing orders for the busy day ahead.

Videos

We include a list of educational videos for patients or customers to watch. These videos are helpful in many areas including strains, terpenes or even just cannabis 101. Have your own video content? We can also customize this list just for you.