Farm Tracker
Now that each State has implemented track-and-trace systems (seed to sale), farmers need an easier way to push their data in order to be compliant. Here at Codabyte we've designed an easier way to get the job done. Our app allows you to manage and monitor your plants straight from your tablet or phone. Being able to take this information mobile is one way to ease the tracking process. Not to mention the use of a barcode or rfid scanner is a game changer. Allow us to help reduce the tedious process of managing all those tags.
Scan tags directly from your phone
No need to write tag numbers down to be managed at a later time. Using our app you're able to scan tags directly from your phone. This drastically reduces the amount of time it takes to stay compliant. Focus on yields and we'll take care of synching data.
RFID Scanner for mass production
We can also provide an RFID scanner which integrates with any mobile device. Using this with our app can drastically improve efficiency. Imagine being able to scan and process an entire room within one click. Think of the time saved!
Helping facilities stay compliant
Farm tracker works in real time making sure you stay compliant. Scan tags, make adjustments and then send that data immediately to any seed to sale system. No need to sync data at a later time. It all happens straight from your phone.
Add lab results to your packages
Farm tracker allows you the ability to add lab results directly from your mobile device. Take your third party results and associated them to any package within a seed to sale system. Managing everything in one app which can be accessed from your mobile device is game changing.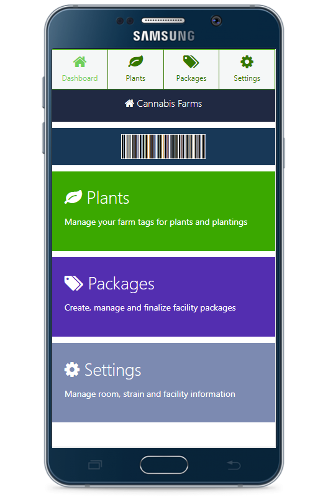 Scan tags directly from your phone

You are now able to scan tags on the go. Just use your phone's camera to scan any plant or package tag. Update or add new information which will then be sent real-time to Metrc or any other seed to sale system. This will cut the time it takes to stay compliant by 75%

RFID scanners available to process large numbers

Most seed to sale systems use RFID tags which can be scan in groups. Our app will allow you scan an entire room of plants and change the growth phase at a touch of a button.

Manage your seed 2 sale systems from a tablet or phone

Farm tracker will integrate with all seed to sale systems. This allows you to track and manage all growth stages directly from your phone or tablet. Disconnect yourself from the outdated UI these systems provide.

Finalize Packages from your phone

Stay in touch with your packages and inventory. You now have the ability to finalize packages directly from a mobile device.